Nigel wins St David award
TOP referee Nigel Owens was among the people whose achievements were recognised by the First Minister last week.
The winners of this year's St David Awards were announced at a special ceremony at the Senedd in Cardiff Bay. The Awards were created to recognise the great deeds and often extraordinary contributions made by people from all walks of life.
Congratulating the winners, First Minister of Wales Carwyn Jones said: "What a fantastic group of winners – congratulations to everyone who's won an award this evening; you're a credit to your families, friends, communities and Wales as a whole.
"I know there are fantastic people doing exceptional things here in Wales. I'm lucky, as I travel across the country, to see first hand the efforts that people make, day in day out to make Wal es as great as it is.
"The St David Awards give us a chance to formally recognise those people who go the extra mile often without the recognition they deserve."
The winners of the 2016 St David Awards are as follows:
First Minister's Special Award – Nigel Owens
Widely regarded as being the best rugby referee in the world, Nigel has won the award for that achievement and for being a fabulous ambassador for Wales.
The only Welsh referee at the 2007 Rugby World Cup in France and the 2011 Rugby World Cup in New Zealand – Nigel's most memorable moment of his career so far was overseeing the 2015 Rugby World Cup final in England, watched by an estimated global audience of around 120 million people.
Nigel has battled with his own personal issues but has offered inspiration to many people – particularly young people – about how to be true to themselves and to live the life they choose.
Since deciding, in his words 'to stop living a lie' and declaring to the world that he is gay, Nigel has spent a lot of time speaking about his sexuality and has helped many young people in particular come to terms with their own sexuality and to have the confidence to discuss it with their families and friends. He is a true role model.
Bravery – Peter Fuller
After selflessly stepping in to prevent a horrific machete attack, Peter Fuller from Mold was presented with the Award for Bravery.
When Dr Sarandev Bhambra was attacked in his local supermarket, Peter bravely stepped between him and his attacker, with little thought to his own safety. He diffused the machete attack and it is believed that he saved a life in doing so.
Citizenship – Janet Williams
Janet Williams from Porthmadog won the Award for making a real difference to the lives of children who could not, for whatever reason, live with their own families. As well as bringing up her three children, Janet has fostered more than 100 children over the past 35 years, even going as far as adopting.
Janet has also mentored and trained other foster carers. She founded and chaired the Gwynedd Foster Carers Association and has been a trustee of the Fostering Network Wales.
Enterprise – Dr Dominic Griffiths
Dr Dominic Griffiths established leading medical device manufacturing company Alesi-Surgical and won the Award for his remarkable success in creating and marketing Ultravision, a new system which clears surgical smoke from the visual field during keyhole surgery and prevents its release into the operating theatre during the procedure.
The invention is now set for exports to hospitals across Europe. It was awarded a nationwide prize at the Praxis Unico Impact Awards, as well as both the New Venture and the first 'People's Choice' Award at this year's Cardiff University Innovation and Impact Awards.
Sport – Chris Coleman
Swansea-born Chris Coleman won the Award for his role in leading the Wales football team to the 2016 European Championship. To the whole country's delight, it is of course, the first time that the team has reached the finals of a major championship since 1958.
His unquestionable passion to succeed is apparent when engaging with fans and players alike, and he and the team will be a huge inspiration for youngsters across Wales.
Young Person – Carwyn Williams
Carwyn Williams who is from Llandudno, was expelled from school and after being transferred to a specialist unit, left school with no qualifications. Two years later, he has turned his life around. He is now an enthusiastic volunteer at the Healthy Image Project, where he promotes physical activity and a healthy lifestyle to young people.
He recently won the Wales Young Volunteer of the Year award at the National Street Games Awards and was part of a group to receive a Highly Commended award by the Wales Council for Voluntary Action.
Culture – Owen Sheers
Owen Sheers was presented with the Culture Award for his work as one of Wales' most prominent wordsmiths – he's a renowned author, poet and playwright. A two-times winner of the Wales Book of the Year, in 2014 his poem 'Mametz Wood' was staged by National Theatre Wales and described as one of the most innovative productions to commemorate the centenary of the outbreak of the First World War.
In 2015 he joined Swansea University as Professor in Creativity where he plays a key role in nurturing creativity among staff, students and the community.
Innovation and Technology – Geraint Davies
For his role in developing part of the real time video app, Periscope, the Award for Innovation and Technology was given to Geraint Davies from Anglesey.
Periscope was launched in March 2015 and enables users to view the world in real time, through someone else's eyes and to broadcast live events to their followers instantly through videos.
It is this important video element that Geraint built which is central to the app's function. The app won the Apple App Store title of 'App of the Year for 2015', less than a year after it was launched.
International – Julie Gardner MBE
For her many years of work in raising the profile of Welsh TV production and the creative industries around the world, the International Award was presented to Julie Gardner. She has a long history in championing Wales – when she led the revival of Dr Who in 2005, she was instrumental in making the programmes in Wales, rather than at BBC studios in England.
Since joining BBC Worldwide America as Senior Vice President in 2009, she has used the role to promote Wales to the US TV industry. Julie has been responsible for attracting valuable inward investment into Wales which has resulted in the creation of a new state-of-the-art studio in Swansea.
Her latest venture is Bad Wolf, a new transatlantic company based in south Wales and Los Angeles producing big-budget TV series and films for the global television market.
First Minister of Wales Carwyn Jones said: "Congratulations to all of the winners of tonight's Awards, I applaud and thank you for your boldness, brilliance and bravery.
"I'd like to congratulate all of the finalists who made the Award's shortlist, you also should be extremely proud of your achievements."
"I'd also like to remind everyone that if you have been inspired by tonight's winners and finalists, nominations are now open for St David Awards 2017."
Police launch public appeal following Carmarthenshire burglary
DYFED-POWYS POLICE is investigating a burglary at a property in Ponthenry.
People broke into a shed at a home in Victoria Road at around 8.30pm on Monday, 31 October, before leaving after spotting a CCTV camera.
They returned at around 10.15pm and again at around 10.55pm.
During their raids they tooka green Wolf motocross helmet with a full face with a peak and line green motocross goggles.
Officers are appealing for help to identify two people they would like to speak to over the incident.
Anyone with information that could help officers with their investigation is asked to report it to Dyfed-Powys Police, either online at: https://bit.ly/DPPContactOnline, by emailing 101@dyfed-powys.police.uk, or by calling 101. If you are deaf, hard of hearing, or speech impaired text the non-emergency number on 07811 311 908. Quote reference: DPP/0756/01/11/2022/02/C. Alternatively, contact the independent charity Crimestoppers anonymously by calling 0800 555111, or visiting crimestoppers-uk.org.
Morrisons Foundation supports children's charity with grant for vital equipment
The Morrisons Foundation supports registered charities that make a positive difference. They recently awarded national children's disability charity, Cerebra, based in Carmarthen, a grant of £11,109.
This will fund the creation of writing slopes through the Cerebra Innovation Centre, which is partnered with the University of Wales Trinity Saint David and designs wonderful toys and equipment to help children living with a brain condition to learn and play.
The writing slopes are designed to help children who struggle with posture and fine motor skills. They also aid children with writing, drawing and hand control. Ross Head, Product Design Manager at the Cerebra Innovation Centre explains;
'The slopes include a lovely wipe-clean surface for children to experiment with mark making, their own set of pens and a clever lid-free pen store to remove the challenge of removing lids for some children. We are so lucky to be able to do what we do and funding like this is so important to allow us to push boundaries and provide vital equipment that looks beautiful.'
At the start of 2022, the Cerebra Innovation Centre highlighted that they anticipated the need for an additional 20 writing slopes for children. Cerebra Fundraising Manager, James Hay then worked with the grants team at the Morrisons Foundation, who were delighted to support this project. David Scott, Morrisons Foundation Trustee said:
'Cerebra is dedicated to helping families who have a child with a brain condition to discover a better life together, that's why I'm delighted that we've been able to provide this support. The specialised writing slopes will make a huge positive impact on children with sensory and mobility issues, providing a great opportunity to develop their skills, which will last a lifetime.'
Grants like this are a vital source of funding for Cerebra so that they are able to continue to support children living with a brain condition and their families who face challenges every day. The Cerebra Innovation Centre is one of the many support services provided by the charity that so many families have come to rely on. James Hay adds;
'Thank you so much to the Morrisons Foundation for this generous grant! We are over the moon as we know how much this project will change young lives. These are particularly challenging times for charities and so this funding from Morrisons for the creation of 20 writing slopes is warmly welcomed.'
You can find out more about Cerebra and how they help children and families by visiting www.cerebra.org.uk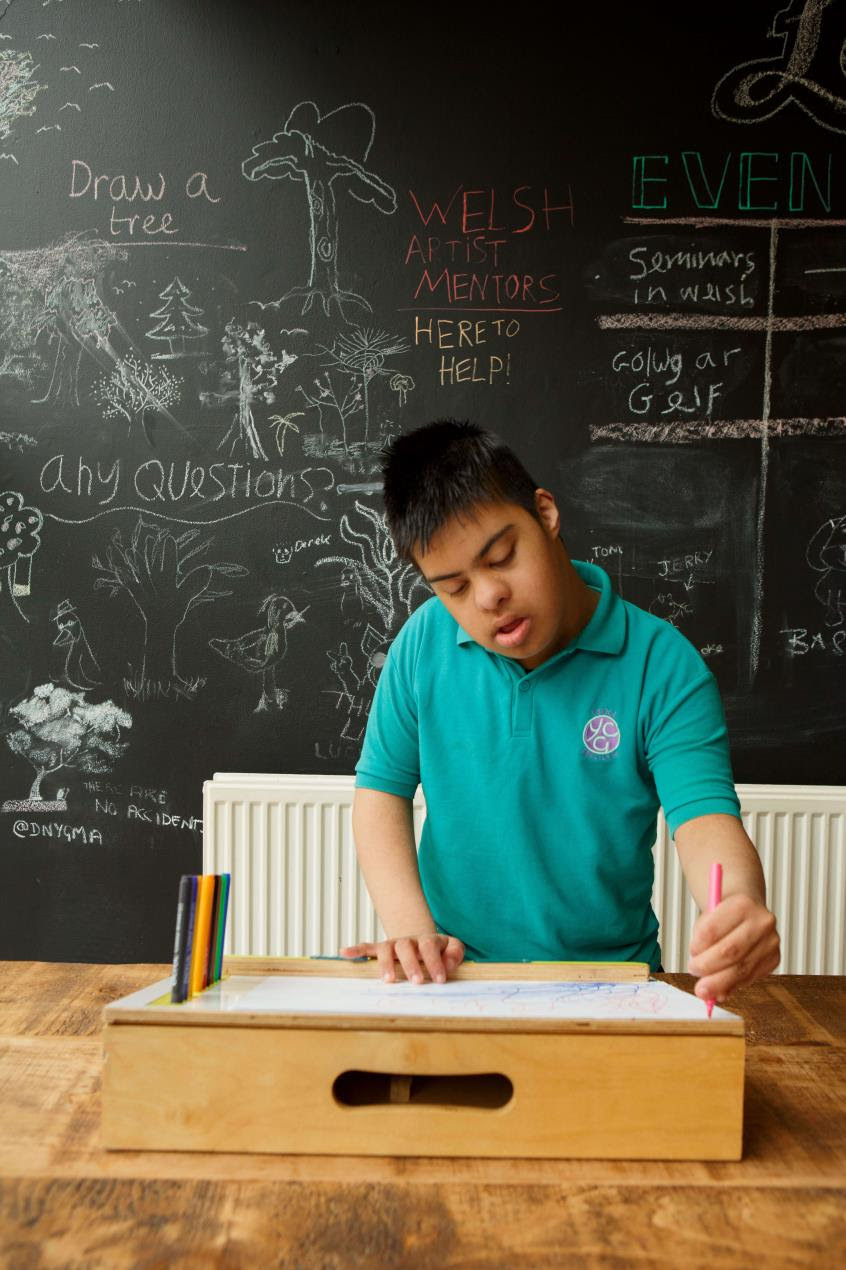 White Ribbon campaign supported by Carmarthenshire County Council
CARMARTHENSHIRE COUNTY COUNCIL says it is again showing its support for the White Ribbon campaign, which takes place on Friday, November 25 and is followed by 16 Days of Action.
White Ribbon is the UK's leading charity engaging men and boys to end violence against women and girls.
While domestic abuse affects both sexes, the largest number of violent incidents involve men against women. But ultimately male violence against women is everyone's issue, not just women's.
The council was awarded White Ribbon UK accredited status for the first time in 2018 and is continuing to work to tackle such violence.
White Ribbon flags will be flying at County Hall in Carmarthen and town halls in Llanelli and Ammanford on White Ribbon Day (Friday, November 25). County Hall will also be lit up on the evening to show support.
The council is working alongside partners to raise awareness of the campaign across the county – from sports clubs, joint visits with the Police to licensed premises, our leisure centres and libraries to bus stations.
With this year's White Ribbon Day falling on the same week as the start of the FIFA men's World Cup, there has never been a better time to come together and start playing as a team to end violence against women and girls.
The council will be raising awareness of the campaign at special events including a Walking Football session at Amman Valley Leisure Centre on November 30 and at "An Evening with Sam Warburton" at the Lyric Theatre in Carmarthen on White Ribbon Day (November 25).
Cabinet Member responsible for Community Safety, Cllr Philip Hughes, said: "It's vital that we raise more awareness about domestic abuse so that anyone affected can get help and support from one of our local services."
Support locally can be found at: Threshold (Llanelli) on 01554 752 422 or www.threshold-das.org.uk; Calan DVS (Ammanford) on 01269 597 474 or www.calandvs.org.uk; Carmarthen Domestic Abuse Service on 01267 238 410 or www.carmdas.org and Goleudy on 0300 123 2996 or www.goleudyvictimandwitnessservice.org.uk or call the Live Fear Free Helpline on 0808 80 10 800 or visit https://gov.wales/live-fear-free for free advice and support 24/7
For more information on the White Ribbon campaign visit www.whiteribbon.org.uk