'Get on' with Tidal Lagoon
CARMARTHENSHIRE MP Jonathan Edwards urged the UK government to make progress with the proposed tidal lagoon in Swansea.
Speaking in the annual St David's Day debate in Parliament, the Plaid Cymru MP promoted the "old fashioned and most cost effective way" of bringing the scheme to fruition through direct public investment.
Mr Edwards said whilst the 'strike price' for the lagoon seems high, it must be considered a long-term investment which will help deliver multiple lagoons across the UK, assist economic growth whilst and protect energy consumers from increased costs. With bond rates at an all-time low, Mr Edwards said, it is an investment in our long-term economic success.
The Carmarthen East and Dinefwr MP also promoted the use of investment from pension funds for the project.
Plans previously announced by Chancellor George Osborne will see pension funds pooled into regional funds for investment. Jonathan Edwards has already warned against the possibility of Welsh public sector funds being diverted for infrastructure investment in England. He questioned why the Wales Office was not ensuring Welsh assets are pooled at a Welsh level to invest in Welsh infrastructure like the lagoon.
Speaking in Parliament, Mr Edwards said: "Despite Wales being one of the most advantageous locations in Europe for renewable energy, just 10.1% of our electricity is generated from renewable sources. This compares with 32% in Scotland and 14.9% for the UK as a whole. Despite Wales being home to the second highest tidal range in the world, and 1200km of coastline, we are lagging behind on tidal technology.
"Swansea Bay is the first of many lagoons that are planned. The proposed Cardiff lagoon would generate enough electricity to power the whole of Wales. The technology is very exiting in terms of helping to develop Local Energy Production Systems instead of the wasteful State wide grid at present where a third of electricity is lost in transmission. Considering the vast majority of the Welsh population lives within twenty miles of the coast, this technology has the potential to answer our future energy needs as a country – providing security of supply vital for attracting industry.
"The level of subsidy is reflective of the fact that the Swansea Bay lagoon is the first of its kind.
"The size of the Swansea lagoon is nowhere near as big as the planned Cardiff and Colwyn Bay lagoons are and therefore the strike price on a per megawatt basis seems high, but it must be considered a long term investment which will eventually deliver multiple lagoons across the UK.
"Funding green energy through a Contract for Difference or 'strike price' effectively passes the cost of upfront investment onto the consumer who inevitably will see their bills go up.
"If I was in the shoes of the Secretary of State I would be making the case that the Treasury should invest directly in the project by bringing it onto the books, just as they do for transport infrastructure such as HS2 for England.
"Raising money on the bond markets is cheaper than it will ever be in future – 50 year bonds at a negative rate and ten year bonds at less than 1.5%. In addition, these are rates available to the Government and are simply not replicable for a private energy company.
"Using an old school financing method – direct public investment – as opposed to an ultimately far more costly financing scheme such as CFD – will be far cheaper in the end for the public and the UK Government should be honest with the people of Wales on this.
"The Treasury will be aware of my calls for a specific Welsh public sector pooled pension fund. Instead of letting the pension assets of Welsh public sector workers be pillaged by a super pooled asset fund based in England – why isn't the Wales office ensuring that Welsh assets are pooled at a Welsh level to invest in Welsh infrastructure like the lagoon?
"It is an investment not just in Wales' energy security, not just in our efforts to lessen dependence on fossil fuels, but an investment in our longterm economic success.
"The Secretary of State said back in 2014 "I want Wales to have the world's first power generating lagoon". I fully agree, however the next question which then comes is how we deliver it. My message today therefore is instead of messing about with financing models, let's do it the old fashioned and most cost effective way – by using direct public investment. Especially in the light of all time low bond rates.
"To close Mr Speaker, confidence is the magic trick in any economic policy. Moving forward quickly on the proposed lagoon will be a massive confidence boost for the South and West of our country stimulating further economic investment and growth."
Police launch public appeal following Carmarthenshire burglary
DYFED-POWYS POLICE is investigating a burglary at a property in Ponthenry.
People broke into a shed at a home in Victoria Road at around 8.30pm on Monday, 31 October, before leaving after spotting a CCTV camera.
They returned at around 10.15pm and again at around 10.55pm.
During their raids they tooka green Wolf motocross helmet with a full face with a peak and line green motocross goggles.
Officers are appealing for help to identify two people they would like to speak to over the incident.
Anyone with information that could help officers with their investigation is asked to report it to Dyfed-Powys Police, either online at: https://bit.ly/DPPContactOnline, by emailing 101@dyfed-powys.police.uk, or by calling 101. If you are deaf, hard of hearing, or speech impaired text the non-emergency number on 07811 311 908. Quote reference: DPP/0756/01/11/2022/02/C. Alternatively, contact the independent charity Crimestoppers anonymously by calling 0800 555111, or visiting crimestoppers-uk.org.
Morrisons Foundation supports children's charity with grant for vital equipment
The Morrisons Foundation supports registered charities that make a positive difference. They recently awarded national children's disability charity, Cerebra, based in Carmarthen, a grant of £11,109.
This will fund the creation of writing slopes through the Cerebra Innovation Centre, which is partnered with the University of Wales Trinity Saint David and designs wonderful toys and equipment to help children living with a brain condition to learn and play.
The writing slopes are designed to help children who struggle with posture and fine motor skills. They also aid children with writing, drawing and hand control. Ross Head, Product Design Manager at the Cerebra Innovation Centre explains;
'The slopes include a lovely wipe-clean surface for children to experiment with mark making, their own set of pens and a clever lid-free pen store to remove the challenge of removing lids for some children. We are so lucky to be able to do what we do and funding like this is so important to allow us to push boundaries and provide vital equipment that looks beautiful.'
At the start of 2022, the Cerebra Innovation Centre highlighted that they anticipated the need for an additional 20 writing slopes for children. Cerebra Fundraising Manager, James Hay then worked with the grants team at the Morrisons Foundation, who were delighted to support this project. David Scott, Morrisons Foundation Trustee said:
'Cerebra is dedicated to helping families who have a child with a brain condition to discover a better life together, that's why I'm delighted that we've been able to provide this support. The specialised writing slopes will make a huge positive impact on children with sensory and mobility issues, providing a great opportunity to develop their skills, which will last a lifetime.'
Grants like this are a vital source of funding for Cerebra so that they are able to continue to support children living with a brain condition and their families who face challenges every day. The Cerebra Innovation Centre is one of the many support services provided by the charity that so many families have come to rely on. James Hay adds;
'Thank you so much to the Morrisons Foundation for this generous grant! We are over the moon as we know how much this project will change young lives. These are particularly challenging times for charities and so this funding from Morrisons for the creation of 20 writing slopes is warmly welcomed.'
You can find out more about Cerebra and how they help children and families by visiting www.cerebra.org.uk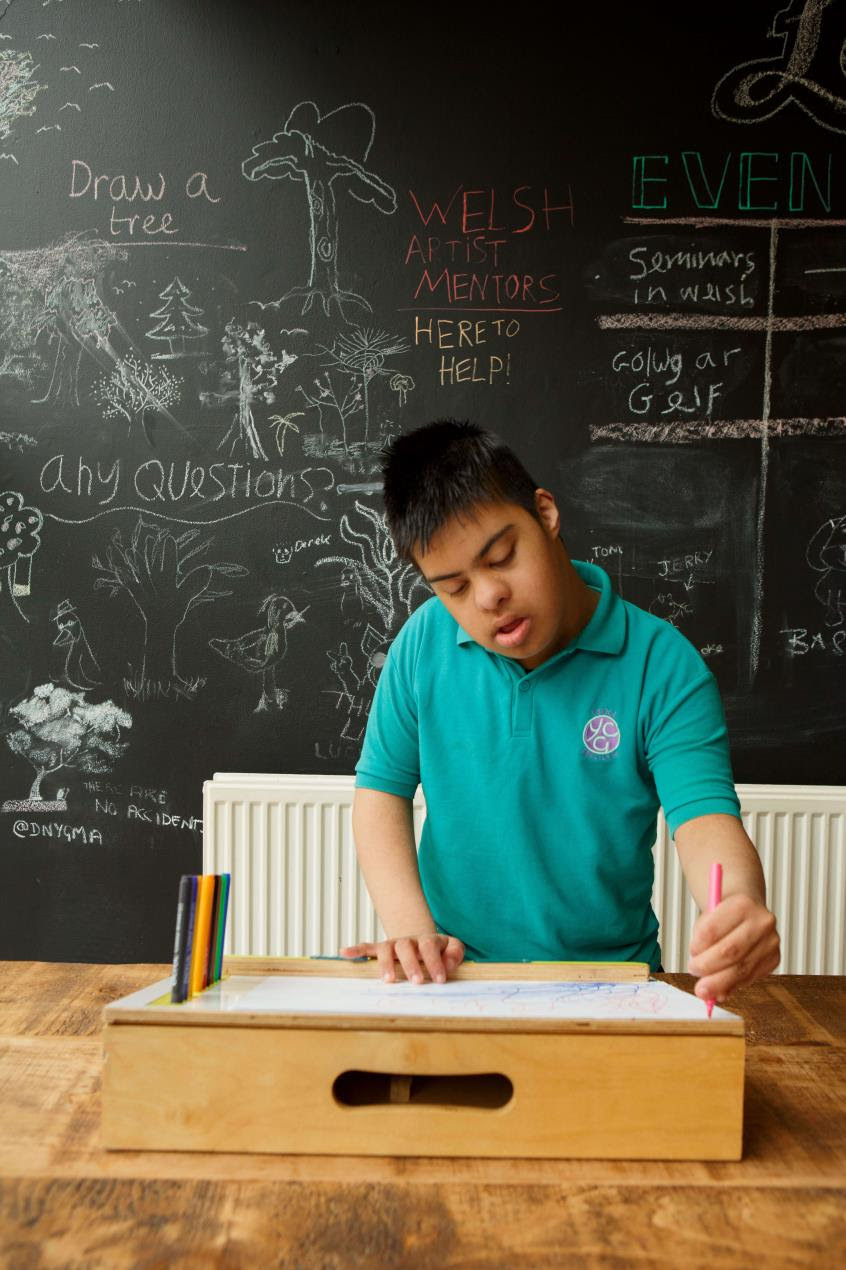 White Ribbon campaign supported by Carmarthenshire County Council
CARMARTHENSHIRE COUNTY COUNCIL says it is again showing its support for the White Ribbon campaign, which takes place on Friday, November 25 and is followed by 16 Days of Action.
White Ribbon is the UK's leading charity engaging men and boys to end violence against women and girls.
While domestic abuse affects both sexes, the largest number of violent incidents involve men against women. But ultimately male violence against women is everyone's issue, not just women's.
The council was awarded White Ribbon UK accredited status for the first time in 2018 and is continuing to work to tackle such violence.
White Ribbon flags will be flying at County Hall in Carmarthen and town halls in Llanelli and Ammanford on White Ribbon Day (Friday, November 25). County Hall will also be lit up on the evening to show support.
The council is working alongside partners to raise awareness of the campaign across the county – from sports clubs, joint visits with the Police to licensed premises, our leisure centres and libraries to bus stations.
With this year's White Ribbon Day falling on the same week as the start of the FIFA men's World Cup, there has never been a better time to come together and start playing as a team to end violence against women and girls.
The council will be raising awareness of the campaign at special events including a Walking Football session at Amman Valley Leisure Centre on November 30 and at "An Evening with Sam Warburton" at the Lyric Theatre in Carmarthen on White Ribbon Day (November 25).
Cabinet Member responsible for Community Safety, Cllr Philip Hughes, said: "It's vital that we raise more awareness about domestic abuse so that anyone affected can get help and support from one of our local services."
Support locally can be found at: Threshold (Llanelli) on 01554 752 422 or www.threshold-das.org.uk; Calan DVS (Ammanford) on 01269 597 474 or www.calandvs.org.uk; Carmarthen Domestic Abuse Service on 01267 238 410 or www.carmdas.org and Goleudy on 0300 123 2996 or www.goleudyvictimandwitnessservice.org.uk or call the Live Fear Free Helpline on 0808 80 10 800 or visit https://gov.wales/live-fear-free for free advice and support 24/7
For more information on the White Ribbon campaign visit www.whiteribbon.org.uk