Proud of the past, looking to the future
ROBERT LLOYD is the former editor of the Llanelli Star and the Carmarthen Journal. He was also deputy editor at the Evening Post. His career as a journalist started when he walked into the office of the Carmarthen Journal and asked for a summer job. Although he achieved grades for university Robert opted for an apprenticeship with the Journal and eventually became the editor. The Herald caught up with him in his recording studio where he produces the talking newspaper for the partially sighted and the blind.
We asked Robert if there was difference to his life now that he has retired from life as a newspaper editor and he told us: "There is a huge difference, I spent 32 years in journalism. When I turned 50, I got out of it.
"I now run my own marketing and PR Company RLloyd PR. I am also part time project officer for the Llanelli Railway Goods Shed. We are hoping to bring it back to life as a community hub. I am the chair of the talking newspaper association. We have a team of 25 volunteers who turn up here and record programmes once a fortnight for blind and partially sighted people. It is a nice rewarding job we do here and help people who are unable to read the local papers and we are looking to develop an online version. The news programme we produce here also gets used on Llanelli Hospital Radio. The news is very localised and we tell people what is going on in their community.
"One of the things I found when I left newspapers was that I could do different things and I had more of a licence to roam. I have worked for the Welsh Government and I covered the Para Olympics interviewing world-class athletes. I was also able to go over on an aid mission to Kosovo with Val Newton. There are pressures and deadlines still but it is a different sort of pressure."
Given Robert's long and successful career in journalism the Herald wanted to ask him if it was important for reporters to research their articles before they were placed on the editor's desk. Calling on his vast experience Robert said, "It is crucial and it is something I used to drill into my reporters. Many of the journalists I trained went on to work for the Guardian and the BBC. You have to get your facts right and if you do it correctly the editor has confidence. People used to ask if I read every word before it went to print, I didn't. You are bound to get errors because it is a human process but getting your facts right is important."
Many of the journalists Robert worked with are now ensconced in the press department of Carmarthenshire County Council. We asked Robert if this was worrying in any way given the relationship the council has with those newspapers today.
The wily former editor called upon his years of experience and responded: "I am old enough to remember when Dyfed's press department was one person and a secretary. It became slightly comical watching my staff being poached to work in local government. Some of those staff were very good at scrutiny of local officers so I guess it was one less person for them to worry about in the world of newspapers. They have a bigger department than most of the local papers."
With instances of planted puff pieces in some local press, we asked Robert if it was possible for people to exert their influence over newspapers in order to get their own message across.
His response was forthright and got to the heart of the knotty issue of what makes a local newspaper: "What I tend to see is that there are weaknesses in newspapers and it isn't the fault of staff as such. I was lucky enough to work with an experienced team of journalists and the papers may not have that kind of benefit today. It is possible for people to throw a bit of smoke and throw mirrors in front of them. Local reporters wouldn't deliberately set out to hoodwink the local public but there are some very clever people out there."
The Herald asked Robert if he ever felt like allowing his own personal feelings run amok in the newspaper. He was very firm in his response and said: "I'd have to say no because I was there as the editor not to reflect my own personal views but as a litmus paper test for the community. Frequently I published things I disagreed with but I wanted to get it out there to get it talked about.
Continuing, he drew attention to one particularly knotty story: "I am thinking about the debate over Stradey Park when they left there. The Scarlets were keen for positive coverage but there was an undercurrent and people had negative thoughts so we aired both sides and there were some sparky moments. It was our duty to present both sides of the story and let people make up their own minds."
He continued: "There were times when I had to write on something in Carmarthen and that might say what great news something was for Carmarthen and then drive to Llanelli and write the same thing but say it was terrible news for Llanelli. Personal preferences have to be set aside."
It was too good an opportunity to miss and we asked Robert what he thought of the new kid on the block, the Llanelli and Carmarthenshire Herald. He was extremely generous in his response and told us: "I take my hat off to the Herald management. I have been observing what they have done in Pembrokeshire and it's been very impressive. They actually asked the questions and took on the local authority where mainstream didn't. I was keen to give the manager of the Herald a slap on the back really for being bold enough to take what they are doing in Pembrokeshire and transfer that into Carmarthenshire. It is a bit of a breath of fresh air."
He continued to highlight the risks to independent local newspapers: "There is a danger sometimes that if you have a one-newspaper town it becomes complacent. I am also glad to see it is under local ownership. Large corporations who have no affinity with Wales own Welsh papers. They are profit driven for shareholders and that doesn't stay in Wales. Print isn't dead and I think there is room for a good, well run local newspaper, which gives people cause to talk about things in the street. The Journal and the Star were set up by a small group of people and they were slightly philanthropic. It wasn't seen as a cash cow."
We asked Robert if he had seen an erosion in local democracy. He said, "It's been there as a story for a good many years. People are frustrated by the lack of transparency in the local council. Perhaps things will change now that Plaid Cymru is in partnership with the independents. What happens in terms of regime will be interesting to follow."
He was, however, cautious about the influence individual councillors can exercise: "I have seen new councillors starting out and they are full of good intentions and they want to change the world and bit-by-bit they have the stuffing knocked out of them. There isn't enough oomph coming from the councillors themselves to say that this is our council and we will run this as we see fit rather than being told by chief officers for example. There is still a suspicion that Carmarthenshire is too much of an officer led council."
Speaking about the differences between the towns of Llanelli and Carmarthen Robert told us, "Llanelli has suffered more in terms of its shopping profile than Carmarthen. Carmarthen has had the investment. The development of the shopping centre in Carmarthen has affected the shops in King Street. When Tesco moved out of Llanelli you are left with a donut. When they left there were codicils, which said that the place could not be used for retail."
Looking at the malign effects of recent developments, Robert articulated some deeply held concerns: "We have had the Eastgate development, which was structured to be a store with, shops around it. It is now council offices with one or two shops and a pub around it. When Stradey moved out another retail park was created in Trostre. There was no linkage to encourage people back into town. There isn't much wrong with it, it is flat, easy to walk; some of the fringes are suffering. They haven't integrated Eastgate and the town centre. The plans showed linked wooden walkways but that hasn't happened. The simplest level would be free car parking. We should compete with Trostre and Pemberton. Some investment may go into the empty shops but I believe it is only a million pounds so it won't go far. If we could find ways of getting these properties back into use that would be good for Llanelli.
The Herald asked Robert what he would do if he had a pot of money equal to what had been spent in places like Parc Y Scarlets. In true community spirited generosity and with the vision of a man who loves his home town he replied, "I am involved in the goods shed project and that speaks to everybody in the community. It is in an area of town that hasn't had a lot done for it."
On the pull of the Scarlets, he was clear as to the advantages and disadvantages of one big attraction: "Rugby speaks to certain people. I think the figures for tourism regarding the Scarlets have been overstated. There is a huge community need for that area and it will be an attraction and a heritage site and have everything from music studio, café there is land around it so we could have gardens, farmers markets, boot sales."
He continued: "You can invest in projects like the Scarlets but not everyone is a rugby fan. Sometimes I think that not enough of the positive work is reported on. Llanelli community partnership is a group of various organisations wanting to make Llanelli a better place to live. There is a huge army of volunteers working hard to improve the town. The Goods shed is about asking the community what they want and providing a place where community groups can set up, social enterprises and business start-ups. Llanelli needs investment and the communities help."
Police launch public appeal following Carmarthenshire burglary
DYFED-POWYS POLICE is investigating a burglary at a property in Ponthenry.
People broke into a shed at a home in Victoria Road at around 8.30pm on Monday, 31 October, before leaving after spotting a CCTV camera.
They returned at around 10.15pm and again at around 10.55pm.
During their raids they tooka green Wolf motocross helmet with a full face with a peak and line green motocross goggles.
Officers are appealing for help to identify two people they would like to speak to over the incident.
Anyone with information that could help officers with their investigation is asked to report it to Dyfed-Powys Police, either online at: https://bit.ly/DPPContactOnline, by emailing 101@dyfed-powys.police.uk, or by calling 101. If you are deaf, hard of hearing, or speech impaired text the non-emergency number on 07811 311 908. Quote reference: DPP/0756/01/11/2022/02/C. Alternatively, contact the independent charity Crimestoppers anonymously by calling 0800 555111, or visiting crimestoppers-uk.org.
Morrisons Foundation supports children's charity with grant for vital equipment
The Morrisons Foundation supports registered charities that make a positive difference. They recently awarded national children's disability charity, Cerebra, based in Carmarthen, a grant of £11,109.
This will fund the creation of writing slopes through the Cerebra Innovation Centre, which is partnered with the University of Wales Trinity Saint David and designs wonderful toys and equipment to help children living with a brain condition to learn and play.
The writing slopes are designed to help children who struggle with posture and fine motor skills. They also aid children with writing, drawing and hand control. Ross Head, Product Design Manager at the Cerebra Innovation Centre explains;
'The slopes include a lovely wipe-clean surface for children to experiment with mark making, their own set of pens and a clever lid-free pen store to remove the challenge of removing lids for some children. We are so lucky to be able to do what we do and funding like this is so important to allow us to push boundaries and provide vital equipment that looks beautiful.'
At the start of 2022, the Cerebra Innovation Centre highlighted that they anticipated the need for an additional 20 writing slopes for children. Cerebra Fundraising Manager, James Hay then worked with the grants team at the Morrisons Foundation, who were delighted to support this project. David Scott, Morrisons Foundation Trustee said:
'Cerebra is dedicated to helping families who have a child with a brain condition to discover a better life together, that's why I'm delighted that we've been able to provide this support. The specialised writing slopes will make a huge positive impact on children with sensory and mobility issues, providing a great opportunity to develop their skills, which will last a lifetime.'
Grants like this are a vital source of funding for Cerebra so that they are able to continue to support children living with a brain condition and their families who face challenges every day. The Cerebra Innovation Centre is one of the many support services provided by the charity that so many families have come to rely on. James Hay adds;
'Thank you so much to the Morrisons Foundation for this generous grant! We are over the moon as we know how much this project will change young lives. These are particularly challenging times for charities and so this funding from Morrisons for the creation of 20 writing slopes is warmly welcomed.'
You can find out more about Cerebra and how they help children and families by visiting www.cerebra.org.uk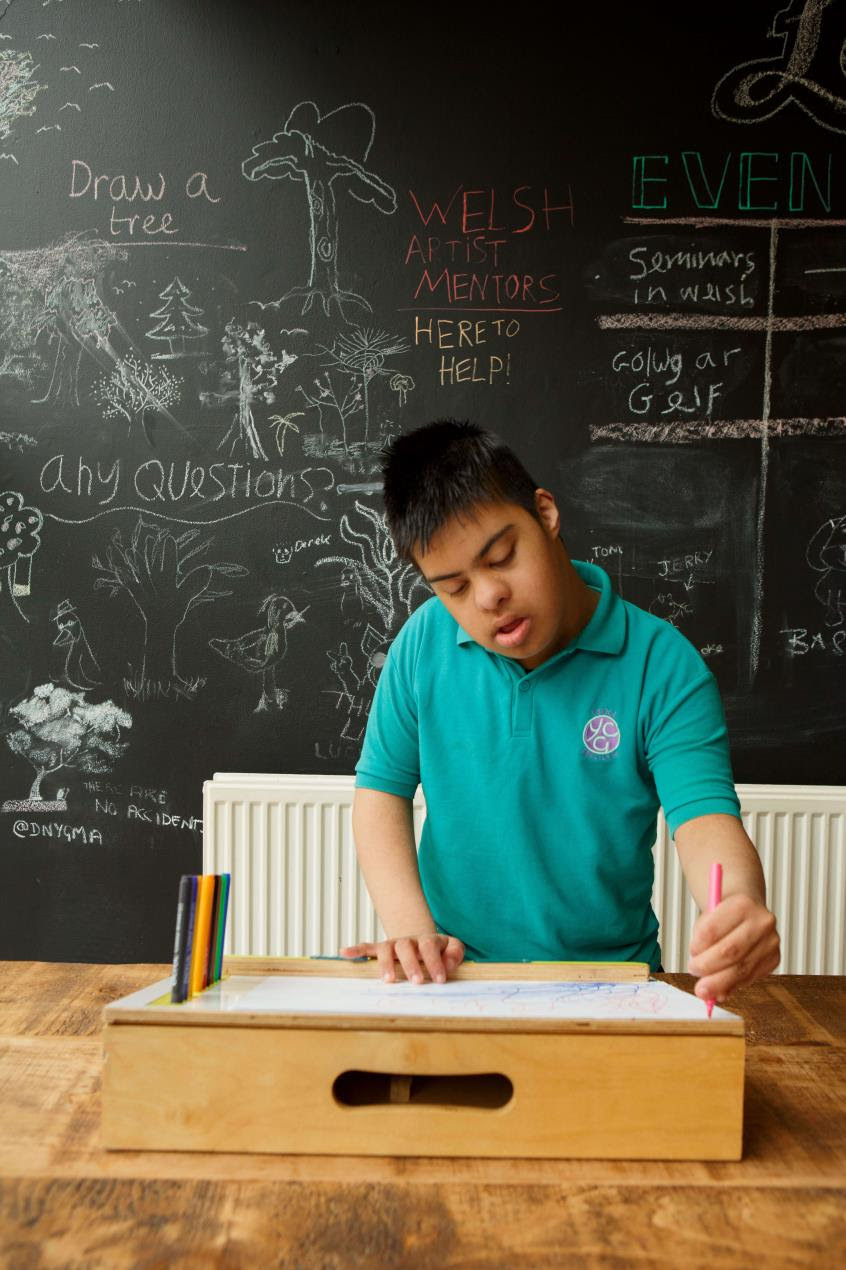 White Ribbon campaign supported by Carmarthenshire County Council
CARMARTHENSHIRE COUNTY COUNCIL says it is again showing its support for the White Ribbon campaign, which takes place on Friday, November 25 and is followed by 16 Days of Action.
White Ribbon is the UK's leading charity engaging men and boys to end violence against women and girls.
While domestic abuse affects both sexes, the largest number of violent incidents involve men against women. But ultimately male violence against women is everyone's issue, not just women's.
The council was awarded White Ribbon UK accredited status for the first time in 2018 and is continuing to work to tackle such violence.
White Ribbon flags will be flying at County Hall in Carmarthen and town halls in Llanelli and Ammanford on White Ribbon Day (Friday, November 25). County Hall will also be lit up on the evening to show support.
The council is working alongside partners to raise awareness of the campaign across the county – from sports clubs, joint visits with the Police to licensed premises, our leisure centres and libraries to bus stations.
With this year's White Ribbon Day falling on the same week as the start of the FIFA men's World Cup, there has never been a better time to come together and start playing as a team to end violence against women and girls.
The council will be raising awareness of the campaign at special events including a Walking Football session at Amman Valley Leisure Centre on November 30 and at "An Evening with Sam Warburton" at the Lyric Theatre in Carmarthen on White Ribbon Day (November 25).
Cabinet Member responsible for Community Safety, Cllr Philip Hughes, said: "It's vital that we raise more awareness about domestic abuse so that anyone affected can get help and support from one of our local services."
Support locally can be found at: Threshold (Llanelli) on 01554 752 422 or www.threshold-das.org.uk; Calan DVS (Ammanford) on 01269 597 474 or www.calandvs.org.uk; Carmarthen Domestic Abuse Service on 01267 238 410 or www.carmdas.org and Goleudy on 0300 123 2996 or www.goleudyvictimandwitnessservice.org.uk or call the Live Fear Free Helpline on 0808 80 10 800 or visit https://gov.wales/live-fear-free for free advice and support 24/7
For more information on the White Ribbon campaign visit www.whiteribbon.org.uk