Plaid forms administration with Independents
IN A REMARKABLE development in a remarkable week at County Hall, agreement between Plaid Cymru and the Independent Group was reached late on Wednesday (May 13) to form a new coalition and governing group at County Hall. The move followed Labour's decision to replace its group and Council Leader, Cllr Kevin Madge, with Cllr Jeff Edmunds. On Tuesday (May 12), the Independent Group made an approach to Plaid Cymru regarding a possible coalition agreement. With a Full Council meeting scheduled for the following day, Plaid's leader, Emlyn Dole asked his Plaid Cymru colleagues to remain at County Hall after the meeting's conclusion. Having got wind of what was going on, Labour leader Jeff Edmunds contacted Cllr Dole. His pitch was, however, undermined by his inability to offer anything concrete without consulting with his Labour colleagues, many of whom had left after council. As Cllr Edmunds was unable to offer anything concrete – in fact, was in no position to offer anything at all – Cllr Dole met with members of the Plaid Cymru group at County Hall at around 4:30 in the afternoon. After a discussion in which all members had their say, Plaid members agreed that it was impossible to leave the council without a Leader one week from the AGM and a decision was reached to form a coalition with the Independent Group.
Following the deal, Plaid Cymru leader Emlyn Dole said: "Plaid Cymru has taken on this responsibility at a most challenging time in local government. The Welsh Government is pursuing fi nancial cuts as a result of the austerity policies of the Westminster Government; following last week's election that is probably going to get worse. We are, however, ready to roll up our sleeves and take on this challenge." Cllr Dole continued: "We want to give this Council fi rm leadership and more focused policies. We must also rebuild Carmarthenshire County Council's good name, which has been so tarnished in recent years." WHO IS THE NEW LEADER? Councillor Emlyn Dole is a former BBC producer and director.
Aged 58, he has been a member of Carmarthenshire County Council since 2008 and last year succeeded Peter Hughes-Griffi ths as Plaid's leader on the Council. Representing the Llannon Ward, Emlyn Dole is married to popular singer Gwenda Owen and is part-time minister of three Independent churches in the Gwendraeth Valley. 'LABOUR SHOT ITSELF IN THE FOOT' OVER LEADER The Herald has spoken to several close to the dramatic unseating of Kevin Madge as Leader of Carmarthenshire County Council on Monday afternoon. We understand that the Labour caucus divided not on ideological or personal grounds, but on geographical ones. Amman Valley members of the Party remained loyal to Kevin Madge whilst councillors from elsewhere in the county, notably the area around Llanelli, voted en bloc for his replacement by Bigyn councillor Jeff Edmunds.
Apologising for his use of mixed metaphors, Plaid Cymru Councillor Alun Lenny told The Herald that the Labour group had pulled off the astonishing trick of 'shooting itself in the foot while stabbing Kevin Madge in the back'. More than one councillor emphasised that they thought Cllr Madge had been treated 'disgracefully' by his Labour colleagues. Alun Lenny told us: "While we argue across the Chamber, Kevin is known to be a decent man. He deserved better for his years of service to the Labour Party and to local government in Carmarthenshire. It is easy to forget that Labour dramatically increased its representation under Kevin Madge's leadership." While Labour fully expected Cllr Edmunds to take up position as Leader of the Council at next week's AGM, it emerged after Monday that the trust between Labour and its Independent coalition partners had been irreparably breached. One member of the Independent Group, who asked not to be identifi ed, told us: "They ditched the Leader half way through a term. For the life of me, I cannot see how anyone could trust them after that." WHAT NEXT? Speaking to The Herald, Cllr Alun Lenny said: "The Budget for this year has been passed. The extent to which it can be changed is unclear.
I hope, however, that we will be able to revisit some of the headings under which savings are due to be made." He continued: "It is early days, of course – early day, in fact! – but, now we have access to them, we will have a good look at the books. The details of working together also have to be sorted out."On a personal note, I would hope that we are able to look at implementing the living wage as a minimum for all council employees before the end of the Council's period in offi ce." On the subject of councillors' relationship with senior offi cers, a subject on which Plaid has been critical of the previous administration, Cllr Lenny told us: "Changes have happened and are ongoing. The relationship between the elected executive and the senior offi cers is something we have to address. Even though I think Kevin Madge was shabbily treated, Plaid still think the Council has suffered from weak leadership, particularly in connection with abdicating leadership to senior offi cers. That is something upon which we want to work." Gwynfor Evans, regarded by many as the 'Father of modern Welsh Nationalism' and fi rst Plaid Cymru MP, was his party's sole member for some years on the old Carmarthenshire council. Gwynfor was elected in 1949 and was a County Councillor for 25 years. The 1956 County Council elections produced an interesting result, with 29 Independent councillors, 29 Labour and 2 Plaid Cymru. Plaid Cymru held the balance, and stranger still both Plaid councillors bore the name Gwynfor Evans! Today, Plaid have 29 members and are about to take over the leadership. Gwynfor Evans, who died ten years ago in April 2005 at the age of 92, would have been delighted to see the council on which he once cut a lonely and often reviled fi gure, being led by Plaid Cymru.
Police launch public appeal following Carmarthenshire burglary
DYFED-POWYS POLICE is investigating a burglary at a property in Ponthenry.
People broke into a shed at a home in Victoria Road at around 8.30pm on Monday, 31 October, before leaving after spotting a CCTV camera.
They returned at around 10.15pm and again at around 10.55pm.
During their raids they tooka green Wolf motocross helmet with a full face with a peak and line green motocross goggles.
Officers are appealing for help to identify two people they would like to speak to over the incident.
Anyone with information that could help officers with their investigation is asked to report it to Dyfed-Powys Police, either online at: https://bit.ly/DPPContactOnline, by emailing 101@dyfed-powys.police.uk, or by calling 101. If you are deaf, hard of hearing, or speech impaired text the non-emergency number on 07811 311 908. Quote reference: DPP/0756/01/11/2022/02/C. Alternatively, contact the independent charity Crimestoppers anonymously by calling 0800 555111, or visiting crimestoppers-uk.org.
Morrisons Foundation supports children's charity with grant for vital equipment
The Morrisons Foundation supports registered charities that make a positive difference. They recently awarded national children's disability charity, Cerebra, based in Carmarthen, a grant of £11,109.
This will fund the creation of writing slopes through the Cerebra Innovation Centre, which is partnered with the University of Wales Trinity Saint David and designs wonderful toys and equipment to help children living with a brain condition to learn and play.
The writing slopes are designed to help children who struggle with posture and fine motor skills. They also aid children with writing, drawing and hand control. Ross Head, Product Design Manager at the Cerebra Innovation Centre explains;
'The slopes include a lovely wipe-clean surface for children to experiment with mark making, their own set of pens and a clever lid-free pen store to remove the challenge of removing lids for some children. We are so lucky to be able to do what we do and funding like this is so important to allow us to push boundaries and provide vital equipment that looks beautiful.'
At the start of 2022, the Cerebra Innovation Centre highlighted that they anticipated the need for an additional 20 writing slopes for children. Cerebra Fundraising Manager, James Hay then worked with the grants team at the Morrisons Foundation, who were delighted to support this project. David Scott, Morrisons Foundation Trustee said:
'Cerebra is dedicated to helping families who have a child with a brain condition to discover a better life together, that's why I'm delighted that we've been able to provide this support. The specialised writing slopes will make a huge positive impact on children with sensory and mobility issues, providing a great opportunity to develop their skills, which will last a lifetime.'
Grants like this are a vital source of funding for Cerebra so that they are able to continue to support children living with a brain condition and their families who face challenges every day. The Cerebra Innovation Centre is one of the many support services provided by the charity that so many families have come to rely on. James Hay adds;
'Thank you so much to the Morrisons Foundation for this generous grant! We are over the moon as we know how much this project will change young lives. These are particularly challenging times for charities and so this funding from Morrisons for the creation of 20 writing slopes is warmly welcomed.'
You can find out more about Cerebra and how they help children and families by visiting www.cerebra.org.uk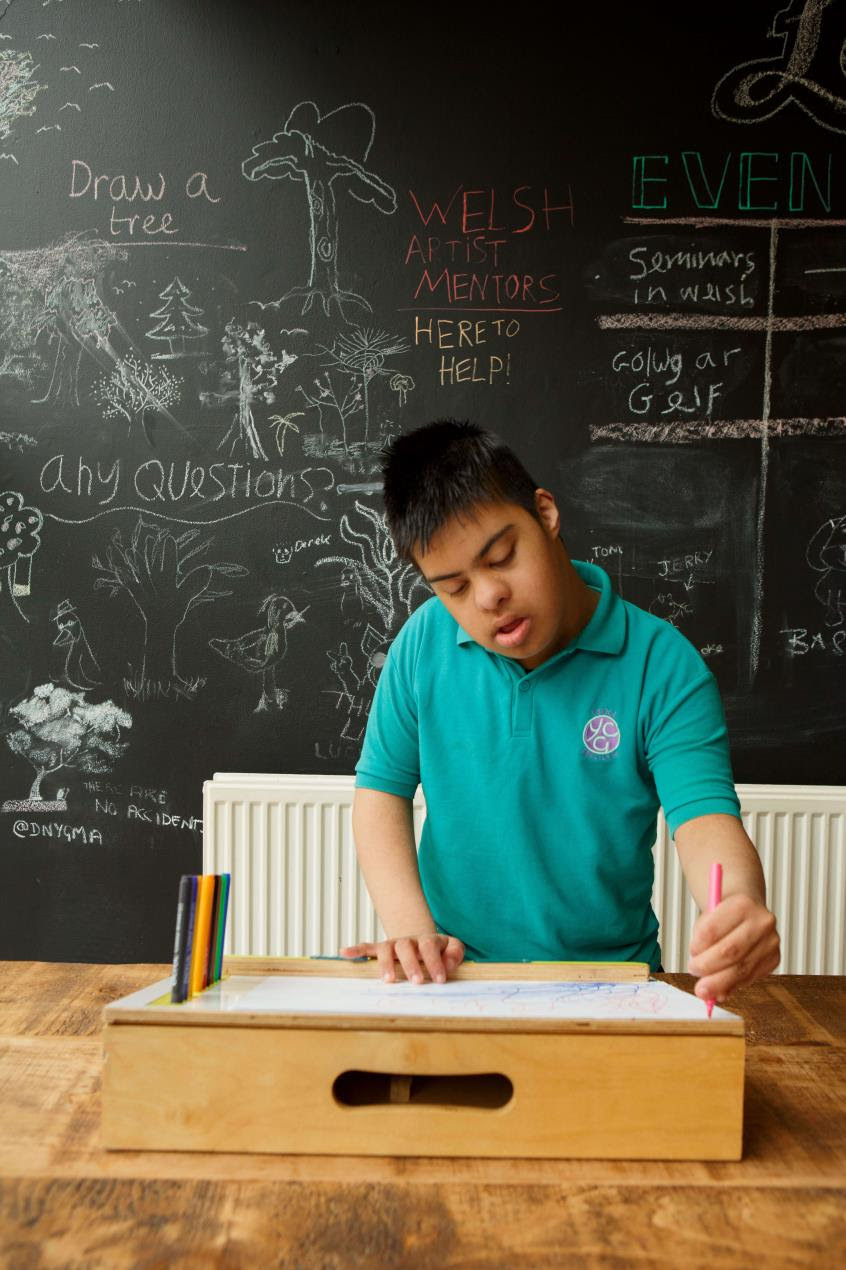 White Ribbon campaign supported by Carmarthenshire County Council
CARMARTHENSHIRE COUNTY COUNCIL says it is again showing its support for the White Ribbon campaign, which takes place on Friday, November 25 and is followed by 16 Days of Action.
White Ribbon is the UK's leading charity engaging men and boys to end violence against women and girls.
While domestic abuse affects both sexes, the largest number of violent incidents involve men against women. But ultimately male violence against women is everyone's issue, not just women's.
The council was awarded White Ribbon UK accredited status for the first time in 2018 and is continuing to work to tackle such violence.
White Ribbon flags will be flying at County Hall in Carmarthen and town halls in Llanelli and Ammanford on White Ribbon Day (Friday, November 25). County Hall will also be lit up on the evening to show support.
The council is working alongside partners to raise awareness of the campaign across the county – from sports clubs, joint visits with the Police to licensed premises, our leisure centres and libraries to bus stations.
With this year's White Ribbon Day falling on the same week as the start of the FIFA men's World Cup, there has never been a better time to come together and start playing as a team to end violence against women and girls.
The council will be raising awareness of the campaign at special events including a Walking Football session at Amman Valley Leisure Centre on November 30 and at "An Evening with Sam Warburton" at the Lyric Theatre in Carmarthen on White Ribbon Day (November 25).
Cabinet Member responsible for Community Safety, Cllr Philip Hughes, said: "It's vital that we raise more awareness about domestic abuse so that anyone affected can get help and support from one of our local services."
Support locally can be found at: Threshold (Llanelli) on 01554 752 422 or www.threshold-das.org.uk; Calan DVS (Ammanford) on 01269 597 474 or www.calandvs.org.uk; Carmarthen Domestic Abuse Service on 01267 238 410 or www.carmdas.org and Goleudy on 0300 123 2996 or www.goleudyvictimandwitnessservice.org.uk or call the Live Fear Free Helpline on 0808 80 10 800 or visit https://gov.wales/live-fear-free for free advice and support 24/7
For more information on the White Ribbon campaign visit www.whiteribbon.org.uk