Monkeypox Q&A: how do you catch it and what are the risks? An expert explains
THE LATEST outbreak of monkeypox has, at the time of writing, reached 17 countries with 110 confirmed cases and a further 205 suspected cases. It's a fast-moving story, so if you need to catch up on the latest, here are answers to some of the most pressing questions.
How is monkeypox spreading?
The first patient in the current outbreak had returned to the UK from travels to Nigeria where monkeypox is endemic. However, cases are now spreading among people who have not travelled to west or central Africa, suggesting local transmission is occurring.
Monkeypox usually spreads by close contact and respiratory droplets. However, sexual transmission (via semen and/or vaginal fluid) has been posited as an additional possible route. The World Health Organization (WHO) says: "Studies are needed to better understand this risk."
Most cases in the current outbreak have been in youngish men, but the virus can spread to anyone.
There are no confirmed cases in Pembrokeshire at the present time.
What are the symptoms?
Early symptoms are flu-like, such as a fever, headaches, aching muscles and swollen lymph nodes.
Once the fever breaks, a rash can develop, often beginning on the face and then spreading to other parts of the body – most commonly the palms of the hands and soles of the feet.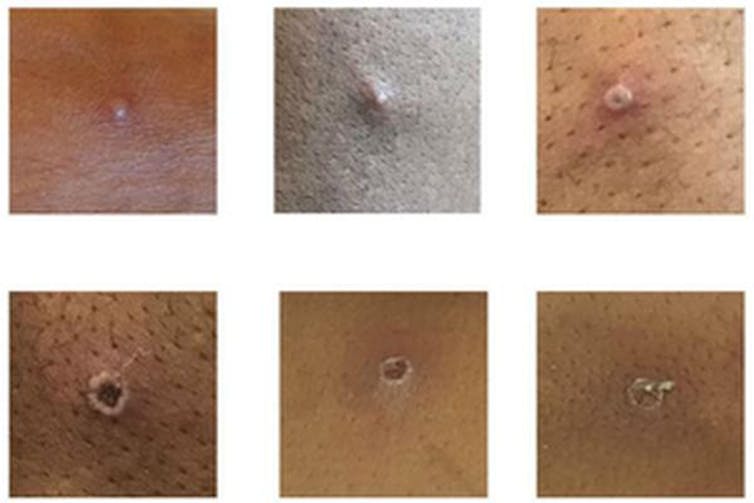 How deadly is monkeypox?
Monkeypox is mostly a mild, self-limiting disease lasting two-to-three weeks. However, in some cases, it can cause death. According to the WHO, the fatality rate "in recent times" has been around 3% to 6%. The west African monkeypox virus is considered to be milder than the central African one.
Monkeypox tends to cause more serious disease in people who are immunocompromised – such as those undergoing chemotherapy – and children. There have been no deaths from monkeypox in the current worldwide outbreak, but, according to the Daily Telegraph, one child in the UK is in intensive care with the disease.
Why is it called monkeypox?
Monkeypox was first identified in laboratory monkeys (macaques) in Denmark in 1958, hence the name. However, monkeys don't seem to be the natural hosts of the virus. It is more commonly found in rats, mice and squirrels. The first case in humans was seen in the 1970s in the Democratic Republic of the Congo.
Is monkeypox related to smallpox and chickenpox?
Monkeypox is related to smallpox – they are both orthopoxviruses – but it is not related to chickenpox. Despite the name, chickenpox is a herpes virus, not a poxvirus. (How "chicken" got in the name is not entirely clear. In his dictionary of 1755, Samuel Johnson surmised that it is so named because it is "of no very great danger".) Nevertheless, the vesicles (little pus-filled blisters) caused by monkeypox are similar in appearance to those of chickenpox.
Are cases likely to continue rising?
Cases are likely to continue to rise significantly over the next two-to-three weeks, but this is not another pandemic in the making. Monkeypox doesn't spread anywhere near as easily as the airborne virus SARS-CoV-2 that causes COVID-19.
Has monkeypox evolved to be more virulent?
RNA viruses, such as SARS-CoV-2, don't have the ability to check their genetic code for mistakes each time they replicate, so they tend to evolve faster. Monkeypox is a DNA virus, which does have the ability to check itself for genetic mistakes each time it replicates, so it tends to mutate a lot slower.
The first genome sequence of the current outbreak (from a patient in Portugal) suggests that the virus is very similar to the monkeypox strain that was circulating in 2018 and 2019 in the UK, Singapore and Israel. So it is unlikely that the current outbreak is the result of a mutated virus that is better at spreading.
How is monkeypox diagnosed?
In the UK, swab samples taken from the patient are sent to a specialist laboratory that handles rare pathogens, where a PCR test is run to confirm monkeypox. The UK Health Security Agency has only one rare and imported pathogens laboratory.
Is there a vaccine for it?
Vaccines for smallpox, which contain the lab-made vaccinia virus, can protect against monkeypox. However, the vaccine that was used to eradicate smallpox can have severe side-effects, killing around one in a million people vaccinated.
The only vaccine specifically approved for monkeypox, Imvanex, is made by a company called Bavarian Nordic. It uses a nonreplicating form of vaccinia, which causes fewer side-effects. It was approved by the US Food and Drug Administration and the European Medicines Agency in 2019 – but only for use in people 18 years of age or older.
UK health secretary Sajid Javid said that the UK government will be stocking up on vaccines that are effective against monkeypox. The UK currently has about 5,000 doses of smallpox vaccine, which has an efficacy of around 85% against monkeypox.
Are there drugs to treat it?
There are no specific drugs to treat monkeypox. However, antivirals such as cidofovir and brincidofovir have been proven to be effective against poxviruses in animals and may also be effective against monkeypox infections in humans.
By Ed Feil, Professor of Microbial Evolution at The Milner Centre for Evolution, University of Bath
This article is republished from The Conversation under a Creative Commons license. Read the original article.
Werndale Hospital recognised for outstanding patient care in national award
STAFF at Werndale Hospital near Carmarthen have been recognised for the quality of their patient care.
The prestigious 'Private Hospital Group of the Year' award is presented to an organisation that has shown excellence in its delivery of care, commitment to the community and innovation within healthcare.
Werndale Hospital was also recognised for their initiatives to support staff in their career progression and wellbeing.
The latest statistics show, 98% of patients at Werndale Hospital were satisfied with their overall level of care, 98% of patients would recommend their care to family and friends, and 98% of patients rated the nursing staff as excellent or very good.
In addition, independent analysis of Circle hospitals' hip and knee procedure outcomes of health improvement shows that Circle scored 8.4 versus an independent sector average of 7.8 in the hip category, and a score of 15.4 versus an independent sector average of 13.9 in the knee category.
The award presented to Circle Health Group, owners of Werndale Hospital, in London in June, also noted the extraordinary contribution the teams at the hospital had made to the community.
In 2021 alone, Werndale Hospital partnered with Air Ambulance Wales and raised £1,205 to support the charity's work in the community.
In addition to the charitable work, Werndale Hospital was recognised for it's commitment to support staff through a series of wellbeing initiatives and career development opportunities. The judges were particularly impressed with the launch of the 'Be Heard' survey at the hospital.
The survey looks to empower staff to feedback on everything from the working environment at the hospital through to their own career ambitions. Building directly on the feedback from this survey, the 'Grow Your Own' campaign was launched which supported staff to work towards specific qualifications from nursing degrees with partnered universities through to bespoke management programmes and MBA qualifications.
As a direct result of this support for staff at what is a challenging time for healthcare workers, Werndale Hospital and Circle Heath Group were recognised as being a Top 20 Best Large Company to work for.
At the heart of Werndale Hospital's approach to treating patients is a commitment to the community they serve.
Paolo Pieri, CEO of Circle Health Group, said: "The award is a testament to what an amazing year 2021 was for Werndale Hospital with considerable investment into the facilities and services on offer to patients in west Wales. I couldn't be prouder of what our staff and doctors have achieved."
Paul Makin shortlisted for Community Nutrition Professional of the Year
A DIETICIAN who has helped provide information and support for people in our communities, including those in care homes, needs your vote to win a national award.
Paul Makin, 37 from Gowerton, is a Lead Community Nutrition Support Dietitian, whose contribution and work is benefiting people in Carmarthenshire, has been nominated and shortlisted for Community Nutrition Professional of the Year by his colleagues at Hywel Dda University Health Board.
Paul was nominated for several reasons, one of which was his development of a self-screening for malnutrition by means of a QR code that leads patients to a nutrition webpage platform. The QR code provides the public, patients, and healthcare professionals with an easy digital resource that they can scan if they are concerned about their own or others nutritional status.
Paul has supported the team in piloting a virtual care home support service to enable the health board to reach care home patients during the height of the pandemic when access was restricted to these areas. Paul is also currently studying a master's qualification and through this is developing a standard operating procedure for the community dietetics team within the health board. This will help the team, that works over four hospital sites.
With regards to his nomination Paul said "I was delighted to hear of my nomination, it was completely unexpected but greatly appreciated. I can't thank the community dietetics team enough for all their hard work and contribution to supporting our quality improvement projects over the past two years. So, for me, this nomination reflects the efforts and involvement of our community teams across the sites. As a clinical lead entering a new health board, it's reassuring to know, despite all the challenges experienced during COVID, that our hard work has been recognised. As a community service, we are working hard to improve patient flow to ensure that those with the greatest needs are receiving the care they need in a timely way."
Victoria Prendiville, Deputy Head of Dietetics, said "Over the last year Paul has turned challenges into opportunities and has led our community team to develop innovative and inspiring quality improvement work. With all these projects Paul has a methodical and inclusive approach, he shows dedication and is a true change facilitator. As a service we are incredibly grateful for his ongoing commitment to patient care, service innovation and change, and his dedication to Dietetics. We are extremely proud of his achievements and those of the team around him."
UK wide voting is now open until the 21st of July. Place your vote for Paul here (opens in new tab
Plan for Health and Wellbeing Centre submitted to Welsh Government
AN AMBITIOUS plan for a new Health and Wellbeing centre in Cross Hands, Carmarthenshire, has been submitted to Welsh Government.
Hywel Dda University Health Board is proposing to enhance an integrated health and social care network of services for the Amman Gwendraeth area, which includes the construction of a new Health and Wellbeing Centre.
If approved, the centre will provide a base for health and care services for the benefit of local communities. The core clinical services will include two local GP practices (Cross Hands and Tumble Medical Partnership and Penygroes Medical Practice), along with a range of Community Health Services such as midwifery, health visiting, community nursing, therapy services, podiatry, and mental health.
These will be complemented with additional supplementary services, such as an Integrated Early Years Centre, which is a community-based service for families with children aged 0-12. There will also be audiology services, a community pharmacy, space for community events, library, as well as a refreshment area.
As part of the health board's commitment towards to decarbonisation, and achieving net zero carbon by 2030, the design of the building includes a range of low/zero carbon technologies. These include the installation of photovoltaic panels, air source heat pumps, as well as the provision of charging points for electric vehicles.
Rhian Matthews, Hywel Dda UHB's Integrated System Director for Carmarthenshire, said: said: "This exciting plan demonstrates the importance of delivering services as close to home as possible.
"This Outline Business Case (OBC) for Cross Hands Health and Well-being Centre is an ambitious plan that will not only be an asset for Cross Hands, but will benefit Carmarthenshire as a whole.
"This is the first OBC to be presented to Welsh Government since the submission of our Programme Business Case (PBC) earlier this year. Our PBC aims to secure a scale of investment never before seen in west Wales, in order to deliver our long-term health and care strategy 'A Healthier Mid and West Wales: Our Future Generations Living Well'."
Subject to Welsh Government approval, planning process and construction phase, the new centre would be built adjacent to the A48 and the new Cross Hands Business Park. It is scheduled to open in autumn 2025.
The full Outline Business Case for Cross Hands Health and Well-being Centre can be found here.