Welsh Dairy Show in Carmarthen
THE WELSH DAIRY SHOW took place at the United Counties Showground on Tuesday (Oct 25).
Opened by Lesley Griffiths AM, the show brought together livestock owners, dairy producers and farmers from across Wales for an event focused on one of Wales' major sectors in its premier industry.
While the mood was celebratory, the event also acknowledged the difficulties facing the agricultural industry in general and the dairy sector in particular.
CHALLENGES FOR DAIRY SECTOR
Delegates at the annual Farmers' Union of Wales Eve of Dairy Show Dinner, taking place on Monday (Oct 24), heard how the dairy industry is facing some challenges that need to be overcome, including low farm gate prices, the threat posed by NVZs and bovine TB.
The event was held at the Ivy Bush Hotel, Carmarthen and welcomed over 100 guests to the HSBC-sponsored dinner.
Speaking at the dinner, FUW President Glyn Roberts said: "The price our dairy farmers get paid for their produce is still too low, with many having to cope with almost a 50% reduction in their milk cheques.
"And, of course, we should note that the tools available in the Dairy Code of Practise in 2012 were not designed to deal with global issues such as Russian trade embargoes.
"Indeed, the Code can do little to better the prospects of producers who have been served notice and we continue to reiterate that smaller producers and those in remote areas are being left vulnerable during periods of oversupply. We must strive to remove volatility from the market."
Mr Roberts further stressed that it is not just the price of milk or contracts that pose a risk to the viability of the dairy industry and that there are two other big issues at play – Nitrate Vulnerable Zones and Bovine TB – that will be around for some time to come.
"The proposed NVZ designations remain a major concern and we continue to stress the operational and financial impacts those designations would have upon farms that are within an NVZ area.
"Given such costs, there must be full justification for any proposed increases in designation, an appropriate transition period and support. I would therefore urge all of our members to make sure they work with their local county office and submit a response to the consultation," said the Union President.
Referring to the recent announcement made by the Welsh Government in regards to tackling bovine TB, Mr Roberts added: "We heard last week that the Welsh Government will consider a badger test-and-cull type approach to TB. It is as a small step in the right direction, but many farmers will be concerned at the implications of splitting Wales into TB zones.
"Targeting infected badgers would be a welcome move, but it is disappointing that it has taken so many years to move back towards common sense after the original comprehensive plan to tackle the disease in wildlife was abandoned by the previous Welsh Government."
Mr Roberts told delegates that the FUW will now consult with its members on both the NVZ and bTB consultation and to ensure that they get a deal that suits the farmers of Wales in all aspects.
ADVICE ON DAIRY CONTRACTS
Also speaking before the Show, Aled Jones, NFU Cymru Milk Board Chairman, said: "The dairy industry has been through a turbulent couple of years and prices still aren't where they should be. That's why it's as important as ever that producers ensure they can make the most out of any contract they are offered."
Mr Jones continued: "Given where the market has been, it's understandable that farmers are moving buyers for better prices. But remember, with most dairy contracts the buyer can change the price quickly after you've signed. It is important that you are fully aware of what the small print says in any contract you sign.
"The most recent AHDB figures for farmgate milk prices show average milk price across the UK at 21.34ppl – in reality, with the scarcity of retailer aligned contracts in Wales, average milk price in Wales will probably be running 1-2ppl below that. This is in stark contrast to market indicators that suggest milk price should be moving towards 25-30ppl.
"The latest AHDB market indicators show an actual milk price equivalent (AMPE) of 28.5ppl and milk for cheese value equivalent (MCVE) of 32.4ppl; the latest Global Dairy Trade auction was up 1.9% and spot milk price is now approaching 40ppl, a huge disparity from farmgate price.
"With 2015-2016 average net farm incomes for dairy farmers forecast to have fallen by 47%, farmers are in urgent need of price rises being passed back down the dairy supply chain.
"If we take a conservative estimate of the average Welsh milk producer price lagging at 5ppl behind what it should be, that means the Welsh rural economy is losing out on a massive £220,000 a day, or £6.7 million a month, from a failure of milk buyers to fully pass price increases to Welsh dairy producers.
"This money is vital not just for farmers, but to the agricultural merchants, vet practices, machinery dealers, builders, electricians, plumbers, accountants and others who rely on dairy farmers for a significant part of their income and who, as a result of cash flow problems on dairy farmers, have also suffered through this dairy downturn.
"Farmers have understood the difficulties there have been in the marketplace for the last two years and accept that the collapse in commodity prices put pressure on the whole supply chain, but what we cannot accept is the widening of the gap between farmgate prices and market returns.
"Welsh dairy farmers' patience is running thin – many have racked up huge debts during this difficult period and are struggling with the pressure of repayments. We rightly expect the current round of milk price announcements to see substantial price rises across the board to reflect the upturn in market conditions, to help reverse the decline in farm income and to bring much needed cash into the Welsh rural economy."
IWAN WINS NFU AWARD
At the event, Iwan Francis of Talog, Carmarthenshire, has been announced as the winner of the 2016 NFU Cymru/ NFU Mutual Welsh Dairy Stockperson of the Year award during the Welsh Dairy Show.
The competition, now in its fifth year, recognises the important contribution a good dairy stockperson can make to a dairy enterprise, as well as the wider Welsh dairy industry.
Iwan, 31, studied at Gelli Aur Agricultural College and later Aberystwyth University, where he gained a degree in Agriculture and Business and was awarded the RWAS Agricultural Student of the Year title.
His first experience of working in the dairy sector came at ManIwan, Bryn Iwan during his college studies. He later went on to spend a year in New Zealand, working at a 1,300 cow unit in Invercargill on the South Island and a 550 cow unit in Hamilton on the North Island.
He now has his own herd of 200 dairy cows, a mixture of both New Zealand Friesians and Jersey crosses, at Nantglas, a rented farm in Carmarthenshire.
During a presentation at the Welsh Dairy Show on Tuesday, Iwan was presented with the top prize of £300 and a Welsh slate engraved cheese board by Cabinet Secretary for Environment and Rural Affairs Lesley Griffiths AM and NFU Cymru Milk Board Chairman Aled Jones.
Speaking after the presentation, Aled Jones said: "The standard of this year's Welsh Dairy Stockperson of the Year award entries were very high, but Iwan's dedication, experience and expertise really impressed us. It's fantastic that we've been able to crown a local winner at this year's Welsh Dairy Show and Iwan joins a long line of worthy recipients of this prestigious title."
Dai Davies OBE, Chairman of NFU Mutual's Advisory Board in Wales, said: "This award is about highlighting the fact that Wales has some of the finest, most passionate stockpeople that you will find anywhere in the world. Iwan's application ticked every box that we were looking for so it's pleasing that we've been able to showcase his contribution to the industry with this award."
Mair James, Welsh Dairy Show Secretary, said: "It's always a pleasure for us to be able to host this award here at the Welsh Dairy Show. Congratulations to Iwan – a fully deserving champion."
FAMILY BUSINESSES VITAL
Speaking at the Welsh Dairy Show, FUW Carmarthen County Executive Officer Assistant Nerys Edwards, whose time is also split between being actively involved in the running of the home farm and keeping a successful occasion cake business 'Cacennau Moethus', said: "The 'Wedding Cheese Cake' has, in recent years, become an increasingly popular option by bridal couples, combining both the concept of a beautiful tiered cake and the traditional cheese board.
"In fact, according to experts, the Wedding Cheese Cake is now chosen for one in ten weddings and as there are over 700 different types of cheese made in the UK, it's no surprise that couples are opting for this type of 'cake'."
A cheese wedding cake is a bespoke addition to a wedding feast and often has added edible decorations to suit the theme and colour scheme of any wedding, Mrs Edwards explained.
The Wedding Cheese cake on display was sponsored by Caws Cenarth, a multi award winning artisan cheese maker, based at Fferm Glyneithinog, Lancych, Carmarthenshire.
A family business established in 1987 by Gwynfor and Thelma Adams, and now run by their son Carwyn, they are a sixth generation of cheesemakers and are the oldest established producer of Welsh farmhouse Caerffili cheese.
FUW President Glyn Roberts concluded: "Wales has the potential to be an exceptional rural economic powerhouse and there are plenty of opportunities for us to grasp in light of our exit from the European Union. The dairy industry has shown us some great examples of how we can do that, how to overcome the challenges posed by a volatile market and we can be proud to have such passionate and enthusiastic producers."
Police launch public appeal following Carmarthenshire burglary
DYFED-POWYS POLICE is investigating a burglary at a property in Ponthenry.
People broke into a shed at a home in Victoria Road at around 8.30pm on Monday, 31 October, before leaving after spotting a CCTV camera.
They returned at around 10.15pm and again at around 10.55pm.
During their raids they tooka green Wolf motocross helmet with a full face with a peak and line green motocross goggles.
Officers are appealing for help to identify two people they would like to speak to over the incident.
Anyone with information that could help officers with their investigation is asked to report it to Dyfed-Powys Police, either online at: https://bit.ly/DPPContactOnline, by emailing 101@dyfed-powys.police.uk, or by calling 101. If you are deaf, hard of hearing, or speech impaired text the non-emergency number on 07811 311 908. Quote reference: DPP/0756/01/11/2022/02/C. Alternatively, contact the independent charity Crimestoppers anonymously by calling 0800 555111, or visiting crimestoppers-uk.org.
Morrisons Foundation supports children's charity with grant for vital equipment
The Morrisons Foundation supports registered charities that make a positive difference. They recently awarded national children's disability charity, Cerebra, based in Carmarthen, a grant of £11,109.
This will fund the creation of writing slopes through the Cerebra Innovation Centre, which is partnered with the University of Wales Trinity Saint David and designs wonderful toys and equipment to help children living with a brain condition to learn and play.
The writing slopes are designed to help children who struggle with posture and fine motor skills. They also aid children with writing, drawing and hand control. Ross Head, Product Design Manager at the Cerebra Innovation Centre explains;
'The slopes include a lovely wipe-clean surface for children to experiment with mark making, their own set of pens and a clever lid-free pen store to remove the challenge of removing lids for some children. We are so lucky to be able to do what we do and funding like this is so important to allow us to push boundaries and provide vital equipment that looks beautiful.'
At the start of 2022, the Cerebra Innovation Centre highlighted that they anticipated the need for an additional 20 writing slopes for children. Cerebra Fundraising Manager, James Hay then worked with the grants team at the Morrisons Foundation, who were delighted to support this project. David Scott, Morrisons Foundation Trustee said:
'Cerebra is dedicated to helping families who have a child with a brain condition to discover a better life together, that's why I'm delighted that we've been able to provide this support. The specialised writing slopes will make a huge positive impact on children with sensory and mobility issues, providing a great opportunity to develop their skills, which will last a lifetime.'
Grants like this are a vital source of funding for Cerebra so that they are able to continue to support children living with a brain condition and their families who face challenges every day. The Cerebra Innovation Centre is one of the many support services provided by the charity that so many families have come to rely on. James Hay adds;
'Thank you so much to the Morrisons Foundation for this generous grant! We are over the moon as we know how much this project will change young lives. These are particularly challenging times for charities and so this funding from Morrisons for the creation of 20 writing slopes is warmly welcomed.'
You can find out more about Cerebra and how they help children and families by visiting www.cerebra.org.uk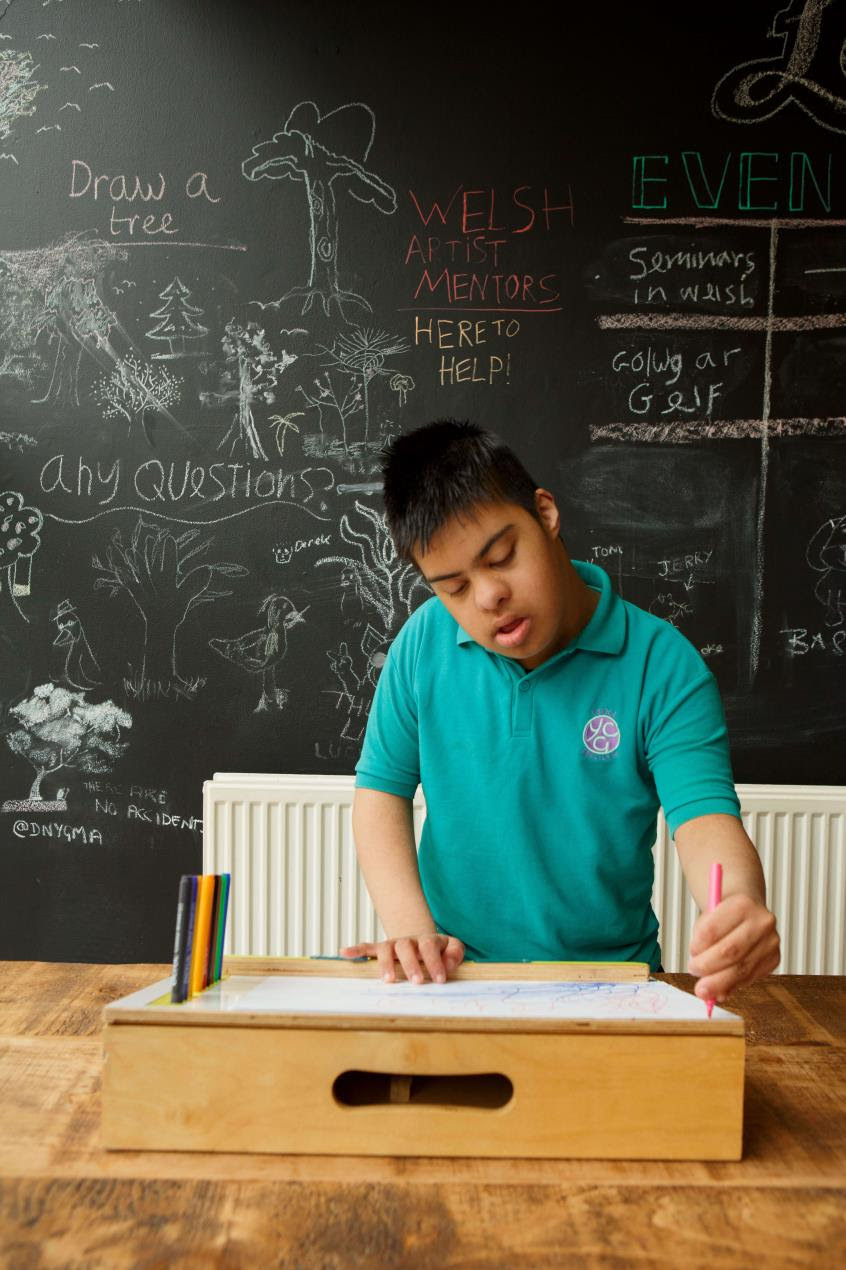 White Ribbon campaign supported by Carmarthenshire County Council
CARMARTHENSHIRE COUNTY COUNCIL says it is again showing its support for the White Ribbon campaign, which takes place on Friday, November 25 and is followed by 16 Days of Action.
White Ribbon is the UK's leading charity engaging men and boys to end violence against women and girls.
While domestic abuse affects both sexes, the largest number of violent incidents involve men against women. But ultimately male violence against women is everyone's issue, not just women's.
The council was awarded White Ribbon UK accredited status for the first time in 2018 and is continuing to work to tackle such violence.
White Ribbon flags will be flying at County Hall in Carmarthen and town halls in Llanelli and Ammanford on White Ribbon Day (Friday, November 25). County Hall will also be lit up on the evening to show support.
The council is working alongside partners to raise awareness of the campaign across the county – from sports clubs, joint visits with the Police to licensed premises, our leisure centres and libraries to bus stations.
With this year's White Ribbon Day falling on the same week as the start of the FIFA men's World Cup, there has never been a better time to come together and start playing as a team to end violence against women and girls.
The council will be raising awareness of the campaign at special events including a Walking Football session at Amman Valley Leisure Centre on November 30 and at "An Evening with Sam Warburton" at the Lyric Theatre in Carmarthen on White Ribbon Day (November 25).
Cabinet Member responsible for Community Safety, Cllr Philip Hughes, said: "It's vital that we raise more awareness about domestic abuse so that anyone affected can get help and support from one of our local services."
Support locally can be found at: Threshold (Llanelli) on 01554 752 422 or www.threshold-das.org.uk; Calan DVS (Ammanford) on 01269 597 474 or www.calandvs.org.uk; Carmarthen Domestic Abuse Service on 01267 238 410 or www.carmdas.org and Goleudy on 0300 123 2996 or www.goleudyvictimandwitnessservice.org.uk or call the Live Fear Free Helpline on 0808 80 10 800 or visit https://gov.wales/live-fear-free for free advice and support 24/7
For more information on the White Ribbon campaign visit www.whiteribbon.org.uk