Gelli Aur park closure hints at massive renovation bill
GELLI AUR County Park, near Llandeilo, is currently closed, despite a grant of almost £1 million from the Welsh Government to aid public access and restoration. 
Announcing the grant in September 2015, the Welsh Government said: "The first phase of the work is to enable public access to the historic parkland and gardens with associated amenities such as tea rooms, play area, educational activities and trails. This will create an outdoor attraction based on the landscape and gardens, while plans will be developed to restore and develop the house and courtyards into a destination for art and cultural activities."
A brown tourist attraction sign on the A483 Llandeilo to Cross Hands road points in the direction of the road to the country park, 'Gelli Aur' in Welsh and 'Golden Grove' in English, but no sign alerts visitors to the park entrance. The sign which used to be opposite the park entrance has been taken down. A notice on the closed gate, down an unmarked drive, says 'No Public Access'.
Carmarthenshire County Council, which is responsible for tourism signs on all but trunk roads in the county, said this week that they are looking into the matter.
NO INCOMING CALLS 
Upon ringing the contact telephone number for Gelli Aur listed in the telephone directory, 01558 668885, there is only a recorded message saying: "This number does not receive incoming calls."
In autumn 2015, the park was open on Fridays, Saturdays, Sundays and Bank Holiday Mondays, but visits in August 2016 on a Friday and a Sunday found entry barred. Several recent comments on the TripAdvisor website refer to finding the park closed, although occasionally the gate is open.
Heledd Parry at Visit Wales – an arm of the Welsh Government – said that restoration progress at Gelli Aur is being monitored, and Visit Wales is asking the Golden Grove Trust, owners of the park, for an update on public access.
SOLD BY CARMARTHENSHIRE COUNTY COUNCIL 
Carmarthenshire County Council sold the Grade II listed, 59,000 square feet Golden Grove mansion and 100 acres of park and woodland, including a famous arboretum, in 2011. Cllr Meryl Gravell, then, as now, the council's Executive Board Member for Leisure, said at the time: "With the financial challenges we face as a local authority, we are delighted to have brought our lease to a close with this happy outcome. The authority is grateful to the Trust for having the foresight and ambition to maintain and hopefully improve the public access and public offer at Gelli Aur. We look forward with much anticipation to watching this wonderful facility evolve."
The park used to feature nature trails, a cafe and a children's play area, besides the Victorian arboretum. It was a popular venue, much visited by local people. Since vacated by Gelli Aur Agricultural College in 2003, the property deteriorated while plans to renovate it as a hotel, then as flats, and a convalescent home for wounded armed forces veterans, came to nothing. The cost of repairing the vast, sprawling mansion was just too great.
The Golden Grove Trust's review of activities for 2014-15 revealed that the mansion's roofs have been made weather-tight, which is arguably the most important conservation emergency. Plans for 2016 included replacing and re-siting the children's playground, reopening the cafe, and recreating the boating pond, but these works appear to be behind schedule.
FOUR DIRECTORS 
The Trust's four directors are art historian Richard Christopher Salmon, who lives now in part of the mansion; the architectural historian Thomas Owen Saunders Lloyd OBE, living at Cwrt Henri, author of 'The Lost Houses of Wales', Adele Esther Blakeborough of Penarth, director of a training company, and James Ronald Seaton of Llanfynydd, director of the upmarket clothing firm Toast.
Mr Salmon, his telephone number located via the Charity Commission, said that the restoration was progressing 'very well' and that the park is normally open on Fridays, Saturdays, Sundays and Bank Holiday Mondays. He thought that the gate closure and 'No Public Access' sign may be a requirement of their insurance company in bad weather, to limit the risk of visitors tripping or slipping over and injuring themselves.
"We have taken down the children's playground and removed a building containing asbestos," he said. "We are in the process of setting up a website."
He deplored what he felt was negative news coverage in 2015, focusing on deterioration at the park and not on the huge ongoing restoration effort. "We could have made it all private when we bought it, but we decided to keep the country park open," he said.
RESTORATION CRISIS 
Public access is, though, central to the aims of the Trust, which are to restore the 'important Regency Hunting Lodge, Golden Grove, to its original architectural condition' as well as to restore 'Gelli Park Country Park, the section of the estate for the benefit of public recreation' and 'important arboretum, pleasure gardens, deerpark, boating pond, lake, bridge and driveways' with the 'restored house and estate for ultimate public benefit as Art Institute'.
The huge costs of renovating a listed historic mansion and its park are, maybe, proving a colossal challenge for the Golden Grove Trust which, according to the Charity Commission, was on August 30 61 days late presenting its accounts for 2014-15. At Companies House, on the other hand, all document filings including the accounts are up to date. The accounts show that Mr Salmon lent the Trust £1,450,756, interest-free, to buy Golden Grove, and guaranteed not to ask for repayment any earlier than November 31 (sic), 2016. For the Trust, repayment would appear to be exceptionally difficult as it has no regular income and depends on grants and rents from two holiday cottages, one of which is under repair.
The restoration crisis at this historically important mansion and park highlights the escalating problems faced by owners of listed buildings and protected landscapes. Without access to a stellar income, even routine maintenance can be a struggle, let alone major rebuilding to the standards required by conservation officers.
Major Francis Jones, in his classic 'Historic Carmarthenshire Homes and their Families', called Golden Grove one of the most important of the county's residences, inhabited by distinguished families – the Vaughans, descended from the Princes of Powys and becoming Earls of Carbery, and then the Campbells, Earls of Cawdor. In 1883, the Earl of Cawdor was one of the 28 British noblemen to own over 100,000 acres, according to the website 'Welcome to the town of Ammanford'.
Those acres yielded the income to build and maintain huge houses like Golden Grove. Today, the mansion has only 100 acres, capable of providing only a fraction of the money needed.
Police launch public appeal following Carmarthenshire burglary
DYFED-POWYS POLICE is investigating a burglary at a property in Ponthenry.
People broke into a shed at a home in Victoria Road at around 8.30pm on Monday, 31 October, before leaving after spotting a CCTV camera.
They returned at around 10.15pm and again at around 10.55pm.
During their raids they tooka green Wolf motocross helmet with a full face with a peak and line green motocross goggles.
Officers are appealing for help to identify two people they would like to speak to over the incident.
Anyone with information that could help officers with their investigation is asked to report it to Dyfed-Powys Police, either online at: https://bit.ly/DPPContactOnline, by emailing 101@dyfed-powys.police.uk, or by calling 101. If you are deaf, hard of hearing, or speech impaired text the non-emergency number on 07811 311 908. Quote reference: DPP/0756/01/11/2022/02/C. Alternatively, contact the independent charity Crimestoppers anonymously by calling 0800 555111, or visiting crimestoppers-uk.org.
Morrisons Foundation supports children's charity with grant for vital equipment
The Morrisons Foundation supports registered charities that make a positive difference. They recently awarded national children's disability charity, Cerebra, based in Carmarthen, a grant of £11,109.
This will fund the creation of writing slopes through the Cerebra Innovation Centre, which is partnered with the University of Wales Trinity Saint David and designs wonderful toys and equipment to help children living with a brain condition to learn and play.
The writing slopes are designed to help children who struggle with posture and fine motor skills. They also aid children with writing, drawing and hand control. Ross Head, Product Design Manager at the Cerebra Innovation Centre explains;
'The slopes include a lovely wipe-clean surface for children to experiment with mark making, their own set of pens and a clever lid-free pen store to remove the challenge of removing lids for some children. We are so lucky to be able to do what we do and funding like this is so important to allow us to push boundaries and provide vital equipment that looks beautiful.'
At the start of 2022, the Cerebra Innovation Centre highlighted that they anticipated the need for an additional 20 writing slopes for children. Cerebra Fundraising Manager, James Hay then worked with the grants team at the Morrisons Foundation, who were delighted to support this project. David Scott, Morrisons Foundation Trustee said:
'Cerebra is dedicated to helping families who have a child with a brain condition to discover a better life together, that's why I'm delighted that we've been able to provide this support. The specialised writing slopes will make a huge positive impact on children with sensory and mobility issues, providing a great opportunity to develop their skills, which will last a lifetime.'
Grants like this are a vital source of funding for Cerebra so that they are able to continue to support children living with a brain condition and their families who face challenges every day. The Cerebra Innovation Centre is one of the many support services provided by the charity that so many families have come to rely on. James Hay adds;
'Thank you so much to the Morrisons Foundation for this generous grant! We are over the moon as we know how much this project will change young lives. These are particularly challenging times for charities and so this funding from Morrisons for the creation of 20 writing slopes is warmly welcomed.'
You can find out more about Cerebra and how they help children and families by visiting www.cerebra.org.uk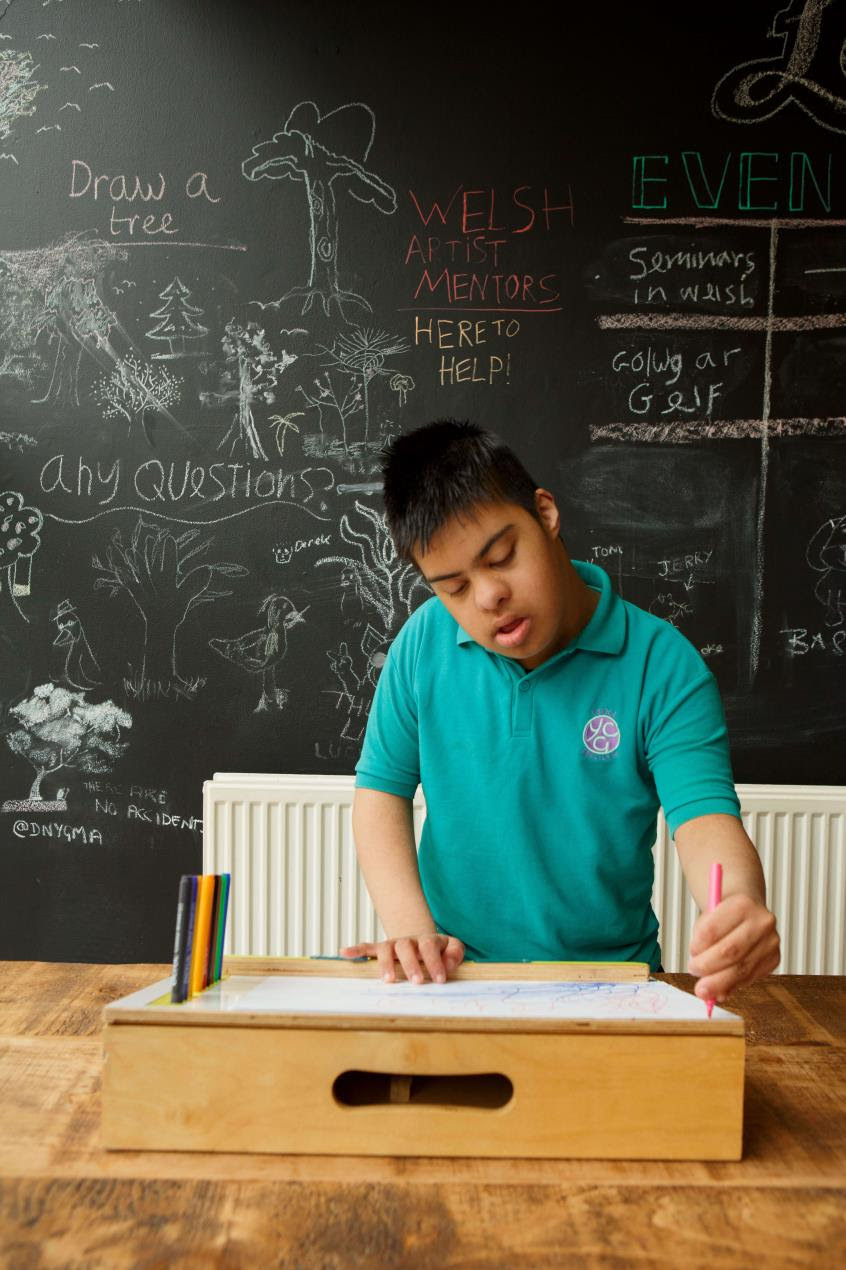 White Ribbon campaign supported by Carmarthenshire County Council
CARMARTHENSHIRE COUNTY COUNCIL says it is again showing its support for the White Ribbon campaign, which takes place on Friday, November 25 and is followed by 16 Days of Action.
White Ribbon is the UK's leading charity engaging men and boys to end violence against women and girls.
While domestic abuse affects both sexes, the largest number of violent incidents involve men against women. But ultimately male violence against women is everyone's issue, not just women's.
The council was awarded White Ribbon UK accredited status for the first time in 2018 and is continuing to work to tackle such violence.
White Ribbon flags will be flying at County Hall in Carmarthen and town halls in Llanelli and Ammanford on White Ribbon Day (Friday, November 25). County Hall will also be lit up on the evening to show support.
The council is working alongside partners to raise awareness of the campaign across the county – from sports clubs, joint visits with the Police to licensed premises, our leisure centres and libraries to bus stations.
With this year's White Ribbon Day falling on the same week as the start of the FIFA men's World Cup, there has never been a better time to come together and start playing as a team to end violence against women and girls.
The council will be raising awareness of the campaign at special events including a Walking Football session at Amman Valley Leisure Centre on November 30 and at "An Evening with Sam Warburton" at the Lyric Theatre in Carmarthen on White Ribbon Day (November 25).
Cabinet Member responsible for Community Safety, Cllr Philip Hughes, said: "It's vital that we raise more awareness about domestic abuse so that anyone affected can get help and support from one of our local services."
Support locally can be found at: Threshold (Llanelli) on 01554 752 422 or www.threshold-das.org.uk; Calan DVS (Ammanford) on 01269 597 474 or www.calandvs.org.uk; Carmarthen Domestic Abuse Service on 01267 238 410 or www.carmdas.org and Goleudy on 0300 123 2996 or www.goleudyvictimandwitnessservice.org.uk or call the Live Fear Free Helpline on 0808 80 10 800 or visit https://gov.wales/live-fear-free for free advice and support 24/7
For more information on the White Ribbon campaign visit www.whiteribbon.org.uk